News
Sun-Kissed to Sun-Healed: Mamaku's Guide to Quick Sunburn Recovery
by info mamakuskin on Sep 06, 2023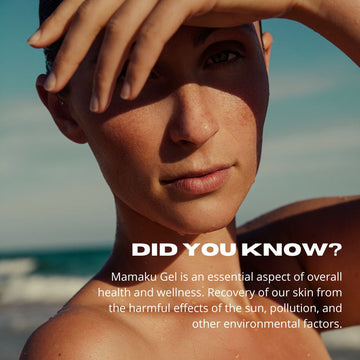 If you have ever experienced sunburn, you know how painful and uncomfortable it can be. Sunburn is caused by overexposure to ultraviolet (UV) rays from the sun, which damage the skin cells and cause inflammation, redness, peeling and blistering. Sunburn can also increase the risk of skin cancer and premature aging.
Fortunately, there are ways to soothe and heal sunburned skin naturally. One of them is using Mamaku Advanced Hydra Gel, a powerful rapid hydrator that restores the skin back to its natural appearance.

Mamaku Advanced Hydra Gel is made with natural ingredients, including Mamaku, a native black tree fern found in damp forested areas in Aotearoa, New Zealand. Mamaku has been used by Māori for centuries for its healing properties, as it contains polysaccharides that help retain moisture, reduce inflammation and stimulate cell regeneration.

Mamaku Advanced Hydra Gel also contains hyaluronic acid, a natural substance that can hold up to 1000 times its weight in water and helps plump up the skin and smooth out wrinkles. Hyaluronic acid also helps repair the skin barrier and protect it from further damage.

To use Mamaku Advanced Hydra Gel, lightly apply it to the affected areas after cleansing. Allow the gel to absorb into the skin for effective hydration. You can use it morning and night, or as often as needed.

Mamaku Advanced Hydra Gel is suitable for all skin types, especially sensitive, dry and eczema-prone skin. It is vegan, cruelty-free and free of parabens, sulfates, phthalates and artificial fragrances.

If you are looking for a natural and effective way to recover your skin from sunburn, try Mamaku Advanced Hydra Gel today. You can order it online from https://mamakuskin.com/products/advanced-hydra-gel or find it in selected stores across Australia and New Zealand.